Return to More Modest Bio page.
<![if !vml]>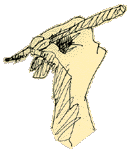 <![endif]> Initiated and organized the smokefree common areas policy at 1970 San Pablo's co-op in 2009.
Initiated and organized the ultimately successful three-year effort to prohibit smoking at bus stops, which finally passed the Berkeley City Council in 2004.
Featured writer at the Centre for Political Song, Glasgow Caledonian University in Scotland.
Restored the right for the community to post fliers in BART Plaza in Berkeley in 2014.
Getting signatures from the band Failure to Disperse (saturdays at the Noe Valley Farmers' Market) was one of San Francisco's Ultimate Scavenger Hunt challenges.
Found lawyers for and assisted in legal defenses for more than 400 political disobedience arrestees in 1991 as the office coordinator for Community Defense Incorporated during the University of California's curious efforts to install volleyball courts in the landmark known as People's Park.
Organized the "Deep Poetry Project" , poetry about holes, to satirize the disparity between sidewalk repair in different parts of town.
Was so effective as a speaker, singer, organizer, satirist, and historian in defense of People's Park, she was sued for a quarter million dollars in a SLAPP-suit by the University of California, a struggle that is still going on, in an effort to silence her and those with whom she organized. She helped the California Anti-SLAPP Project write a book for SLAPP-suit victims.
Organized for crowd control reforms which became part of Berkeley Police requirements in 1992, although the Berkeley Police's actual practice is a far cry from their training manuals.
In 1992 the University gave her a peculiar measure of fame by having her legally declared a public figure, in order to remove their liability for slandering her, which they may now do with impunity.
Was part of Free Radio Berkeley's original crew when it broadcast clandestinely from the Berkeley hills as micropower radio's flagship station, co-hosting the Sunday night show "Thinking Globally, Revolting Locally" with Stephen Dunifer as "Laura Drawbridge".
In 1995 was singly responsible for documenting the civil rights violations that kept a law designed in 1954 to keep sidewalks clear of planters from being selectively used to clear sidewalks of homeless people (affectionately known as 3262 NS 12.1).
Worked ten years as a senior advocate with the local non-profit Senior Medi-Benefits, assisting senior cancer and stroke victims with Medicare and Medi-Cal problems.
Wrote, acted in and co-produced radio plays with Richard Edmundson and the Jolly Roger Comedy Troupe for Free Radio Berkeley and San Francisco Liberation Radio.
Made the largest single contribution to Ashkenaz' Dance Club conversion to a community center after the death of David Nadel.
After PG&E went bankrupt in 2001, she threw a bakesale for the struggling utility in front of both their San Francisco and Berkeley headquarters which made front page news, raising a grand total of $1.27.
Won "Best of the Bay" honors from the Bay Guardian in 2001, not for best singer, songwriter, or song, since those categories don't exist, but because the Bay Guardian staff was so taken with her song, called "The PG&E Song" or alternatively, "Write the Check and Shut Up" that, well, they just gave it to her.
Won "Best Solo Performer" in the East Bay Express readers poll in 2002.
Researched the ultimately landmarked history of Ashkenaz, now a community dance and music center.
Was a featured actor in both George Coates'1999 and 2002 production, the "Mock City Council" playing the City Attorney, Marcia Law.
Struggled seven years to finally get the Berkeley Folk Festival successfully moved into a larger, more accessible hall while being blacklisted, attacked in newspapers, on the internet, at commission meetings, and council meetings, sometimes by council members, who preferred the supposed "intimacy" of smaller, inaccessible halls. The festival was accessible for the first time in 2003.
Wrote, edited, and illustrated years of satire of Berkeley's political antics in several humorous publications, including more than twenty-five years of the Pepper Spray Times, which became a regular feature in the Berkeley Daily Planet in 2004 and continues to be hosted online today, as well as collected by the Wisconsin Historical Society.
Organized "Fiddlers for Peace" in response to the threat of war.
"Art. Art. Art. If you say it enough you sound like a barking dog."
Carol Denney
Return to More Modest Bio page.
---